Ithaca & From The Ground Up Product Collaboration Case Study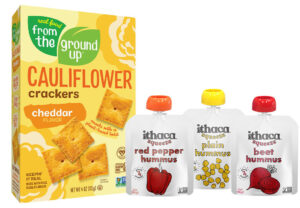 There is no denying hummus and crackers are a match made in heaven, so we partnered up with ithaca hummus and from the ground up snacks for a joint campaign, merging the uncompromising freshness of ithaca's hummus and the authentic crunch of from the ground up cauliflower crackers.
The combined target demographic for these two brands was young and health conscious people / young families and campaign participants had to be within close proximity to stores where the products are sold. We selected 88 companies across Florida, Orlando and Tampa that were in close proximity to 214 stores where campaign participants could use their free and money off coupon provided by these two brands. This strategy was useful in generating sales uplift, promoting the brands and influencing consumer engagement.
We achieved an above average campaign engagement rate with 19% of participants completing the post campaign questionnaire. Out of the 2,818 responses, only 26% had heard of ithaca and 14% had purchased this product before this campaign whereas after trying the product samples, 87% of consumers said they would purchase this product after trying and now 100% of campaign participants have heard of this brand. This goes to show the clear benefits product sampling has on brands as before participants even tried the product, ithaca had a minimum of 74% increased brand awareness just by being involved in a campaign run by The Work Perk and a 73% increase on intent to purchase after participating in the campaign.
Responses we received from from the ground up snacks; only 28% had heard of the brand and 19% had purchased from the brand before this campaign. After the campaign the propensity to purchase increased by 65% with 84% of participants highlighting they would purchase from this brand after trying their product, further highlighting the clear benefits product sampling has on brands.
Key Statistics
ithaca Results
2,818
Completed Questionnaires
73%
Purchase Intent Increase
Key Statistics
FTGU Results
2,818
Completed Questionnaires
65%
Purchase Intent Increase
Campaign Images
Image Gallery