Lucozade Alert: Product Sampling Campaign
Campaign Overview:
The product sampling campaign for Lucozade Alert was executed nationwide but with a strategic focus on key cities, including London, Manchester, Bristol, Birmingham, Leeds, Glasgow, Edinburgh, and Cardiff. The target demographic was 18-44-year-olds, with a particular emphasis on the 25-34 age group.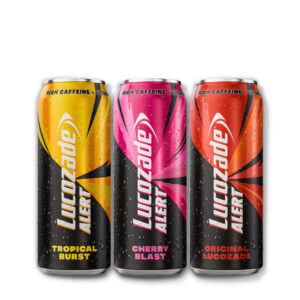 Campaign Strategy:
The strategy involved distributing 399,456 samples of Lucozade Alert to cool, dynamic, and fun workplaces where young working professionals could be effectively engaged. The campaign aimed to capture the attention of these target consumers and position Lucozade Alert as a refreshing and energising option for their busy and active lifestyles.
Key Objectives:
Introduce the new Lucozade Alert product in its new can design as a 'High Caffeine Energy Drink'.
Raise awareness and create a buzz around the product among the target demographic.
Gather valuable market insights for Lucozade Ribena Suntory through the post-campaign questionnaire, including the target audiences opinions towards competitors, future R&D support and brand & product analysis.
Understand the buying behaviour of target customers to highlight positioning and advertising opportunities to influence future purchases.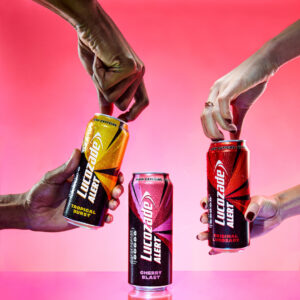 Campaign Execution:
The product sampling campaign was conducted in collaboration with 969 companies that shared the same demographic target as the product. A total of 76,056 participants completed the post-campaign questionnaire, providing comprehensive insights that supported the brand in understanding consumer preferences and behaviours.
Key Statistics
All the facts
399,456
Consumers Reached
76,056
Completed Questionnaires
Results and Impact:
Propensity to Purchase: The campaign achieved an impressive 84% propensity to purchase among the target audience. At a price point of £1.55 for 1 can, this translated into a minimum projected sales range of £100,000 to £520,000 for Lucozade Ribena Suntory.
Market Insights: The comprehensive data gathered from the post-campaign questionnaire allowed Lucozade Ribena Suntory to conduct market analysis. The insights provided a clear understanding of consumer preferences, helping in refining marketing strategies and future product developments.
Consumer Engagement: The campaign successfully engaged with young working professionals, especially in the 25-34 age range, through cool and dynamic workplaces. This strengthened the brand's connection with the target audience and built positive brand associations.
Competitions: The three competitions conducted during the campaign, where winners received a year's supply of Lucozade Alert, generated additional excitement and interest among participants, further enhancing brand loyalty.
Conclusion:
The Lucozade Alert product sampling campaign in Q1 2023 proved to be a resounding success. Through strategic distribution and engagement with dynamic workplaces, the campaign effectively reached the target demographic of 18-44-year-olds, with a specific focus on the 25-34 age group. The campaign's propensity to purchase, comprehensive market insights, and consumer engagement established Lucozade Alert as a go-to high-caffeine energy drink for young working professionals. The partnership between Lucozade Ribena Suntory and The Work Perk demonstrated the value of thoughtful product sampling campaigns, providing valuable data for future marketing initiatives and product development.
Lucozade Alert
Image Gallery