Nature Valley Nut Butter Product Sampling Campaign
We partnered with Nature Valley to distribute 245,184 Nut Butter Bars across London, Manchester, Birmingham, Liverpool and Cardiff. We were tasked with segmenting campaign participants to offices with a 70:30 female:male split, aged 25-44, young families who are active, aspirational, often on-the go, focused on what they are eating and look for better for you snacking options. They want a snack that tastes great but also has other additional benefits e.g. wholegrain, fibre, protein. They like products/ brands that focus on real ingredients, are wholesome, filling and delicious. After segmenting our network based on this target demographic, we narrowed the sample size down to 279 companies.
This product sampling campaign in partnership with Nature Valley achieved a Gold IPM Award for the Best New Product Launch. Nature Valley Nut Butter came back with +45% sales uplift vs previous period. We received 53,842 completed product questionnaires from campaign participants, with 47,381 participants saying they would purchase this product after trying (88% propensity to purchase). The qualitative feedback was really positive and highlighted the importance of the product being 100% wholegrain and filling enough that it is perfect for the commute into work or as a snack throughout the day.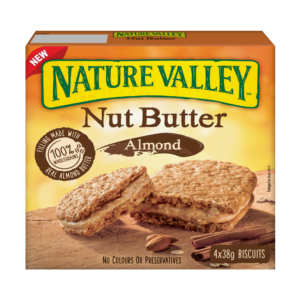 Key Statistics
All the facts
245,184
Consumers Reached
53,842
Completed Questionnaires
Campaign Images
Image Gallery